JCPenney has been doing a really good job of including fun clothes into their women's plus section. Just a few short years ago I would go look in their section to try to find something cute that I feel attractive in and that was a really hard thing for me to do. I love all the range in style and choices and colors and material used in the plus clothing section for women recently. JCPenney is known to carry a lot of classic items that are good for daily working women but some of those pieces can run into nightlife and day-to-day errands. Check out my choices below I really loved everything I tried on and I am obsessed. I would say JCPenney's plus size section has way cuter options versus their competitor Kohls.
Liz Claiborne Sleeveless Crew Neck Knit Blouse-Plus
Pinterest
I would just like to say my hair looks really good in the above below because I am blow-dried my hair with Garnier Fructis blowout serum.
This sparkly top is a little rough on the skin not gonna lie. It's beautiful and it comes out beautiful in photographs. It really flows nice and it actually is not too tight. So it feels like it's not too constricting. This top looks like it's not breathable but it actually is extremely breathable material. You could always throw a Cami underneath this top and it would help if you have sensitive skin like myself.
I don't know how to POSE haha
Ashley Nell Tipton Lipstick top
Distressed Skinny jeans are the best

This crop top is so cute you could even layer it with a black, gold, red or white Cami underneath.
Gold or red would accentuate the accent color in the Lipstick Print. Black or White would just go with Black LOL. You could go with a POP of NEON for some funk!
SEE SAMPLE BELOW
👄👄👄👄
Yes Lipstick Print
Boutique + Short Sleeve Scoop Neck T-Shirt-Plus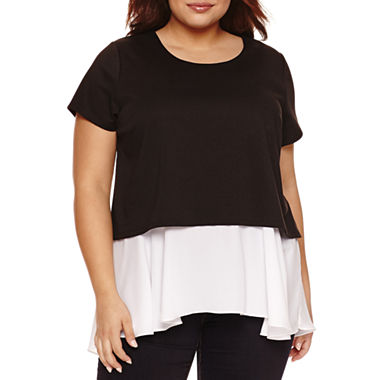 via JCPenny
Dressing Room Selfie
I love this boutique top I really love the bottom layer of the sheer white fabric peeking out underneath the black top. This it's really delicate and for Lowy and it's also structured nicely and comfortable.
I;m more of a fan of a V-neck or low cut top, but this scoop neck is nice.
Dressing Room Selfie
In all photos:
Boutique Skinny Jeans
18W
Review on the boutique skinny distressed Jeans
Love the rips
Comfortable
Looks so cute
Fits really great in the waist
I really like how this specific brand fits true to size. I wear a size 18 and I tried on a size 18 jeans and they fit!😄
These jeans are so comfortable. and they fit so great they fit wonderful in the middle, they were too tight on my belly.
Obsessed with these boutique skinny jeans for life!!
Thanks for checking it out