Just Call Me Sea Angel: Target Plus Bikini Try-On
INSPIRED BY LOEY LANE'S RECENT
TARGET BIKINI TRY ON
👙
I love Loey's videos and when I heard that Target now carries cup sizes in "straight" sizes I figured I would give it a try. I was shocked to see Bikini tops in various styles in a D/DD option! I know what works with my curves and what isn't going to work. I have the same struggle in Plus size that I had with my figure in Straight sizes. Finding a Top that covers me and doesn't dig into my very large scar on me left side. I have a MAJOR scar running from the side of my breast to my back. This was from open heart surgery as a preemie infant at 2.5lbs. I want to have Bikini options that make me feel Sexy in my Mom Body. I Love the Target Bikini Try on Video and you can check it out just keep scrolling...just keep scrolling
. 🐠🐟
First Bikini:
Women's Off the Shoulder
Bandeau Bikini Top - Xhilaration
$22.99
STYLE
bandeau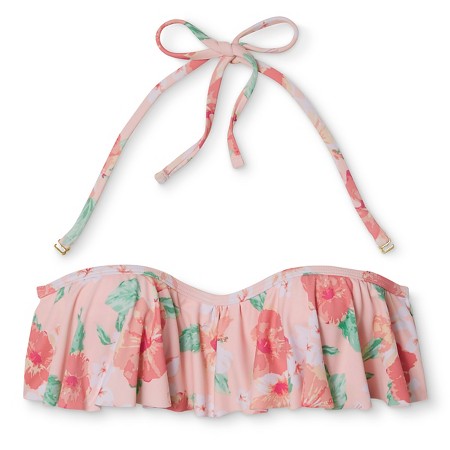 Top 38 D/DD
Bottoms 16/18 AVA + VIV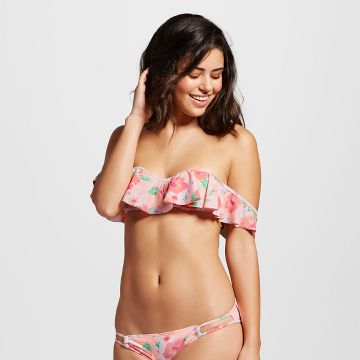 PEACH FLORAL +Target
Who wore it best? I would say LOEY because she could actually clasp the top. I did not even TRY the bottoms on, and neither did Loey. I knew it would not fit my ass let alone my scary baby belly. I have never liked a bikini bottom that does not have a fuller coverage.
Truth bomb: SO bummed I couldn't get the top secured! So I took a pic including back rolls and big arms.#allbodiesaregoodbodies


Second Bikini:
Women's Mesh High Neck
Halter Bikini Top - Mossimo
$22.99
STYLE
halter top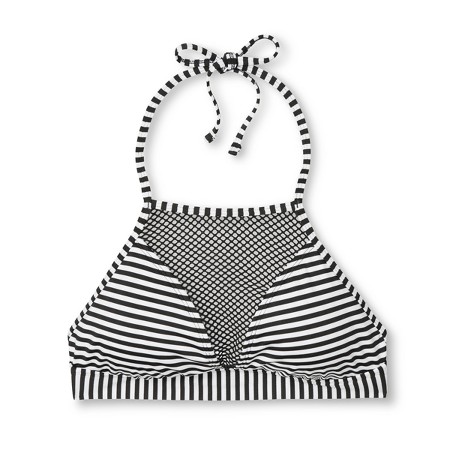 Top 38 D/DD
Bottoms 16/18 AVA + VIV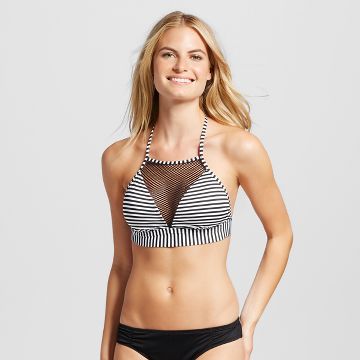 Target
I love this Top the style is very punk rock.
The mesh and black and white stripes are so punk rock. The material from the sample size on the model is longer in the bodice than in the actual product, when looking at the band below the cup.
CRAP ITS MOSSIMO NOT XHILERATION MY BAD
👙👙👙👙👙👙👙👙👙👙👙👙👙👙👙👙👙
Third Bikini:
Women's Crochet
High Neck Bikini Top - Xhilaration
$19.99
STYLE
high neck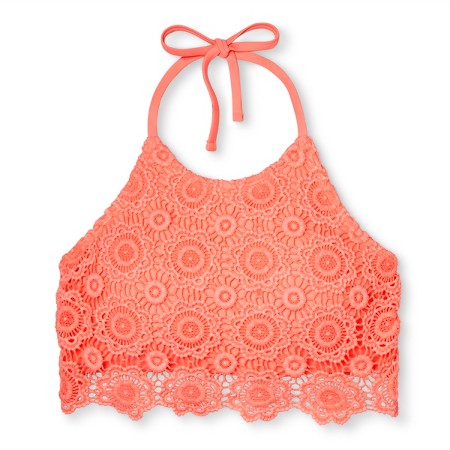 Top 38 D/DD
Bottoms 16/18 AVA + VIV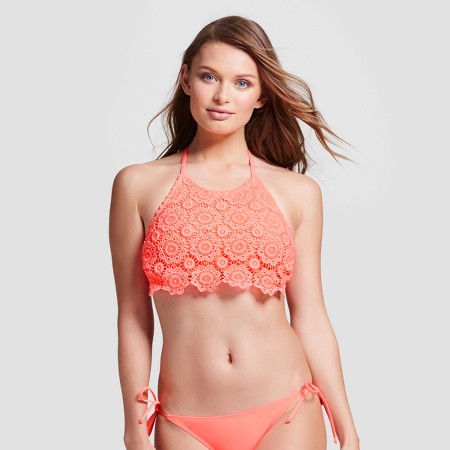 Target
This top is a cute and I love coral color. This is a little smile in the top of the strings really tight.
Too much Side boob going on! It's actually really comfy and if it had a little more breast coverage I would totally get this!!
In Highschool, I used to always get Boy Short/ full coverage Halter or Tank style Bikinis.
STORY TIME: Me and my little sister were at a Waterpark "Manteca Waterslides" that no longer exists😭. We were going down a Tall waterslide that lands in a pool. I was wearing a Tie back similar to this style. Imagine it blue with White Daisies all over, very Drew Berrymore 90s vibes.
As soon as I hit the water my top FLEW UP from the bottom! I had no idea until my sister told me and I freaked out. HOW EMBARRASSING as a teen. It was so crazy! Every since, I have NEVER purchased another Halter that ties in the back.
The Options online are MUCH broader and fashionable at www.Target.com
In store, there were only basic black or blue or pink striped "Mom swimsuits" and "mom fatkinis".
PLUS SECTION ONLINE FAVES
LOVE THE COVER PIC WITH A PLUS GIRL and STRAIGHT SIZE GIRL <3
(although the Plus girl looks practically Straight sized IMHO)
...She is probably a size 12/14
and her friend is a size XS...
Some cute options ONLINE <3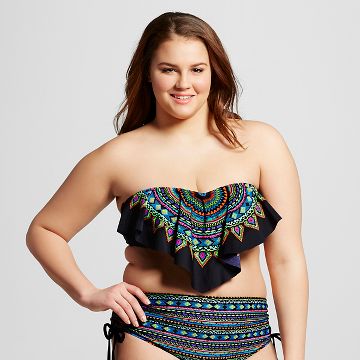 Target
These would never work on me but YES!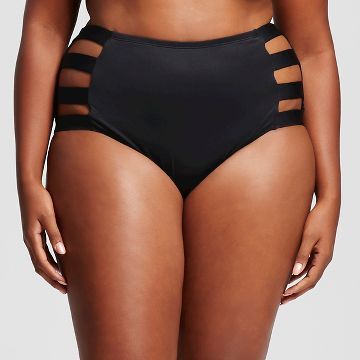 Target
THIS BOTTOM IS CUTE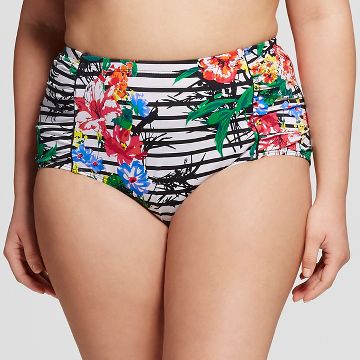 Target
YES BACK ROLLS!!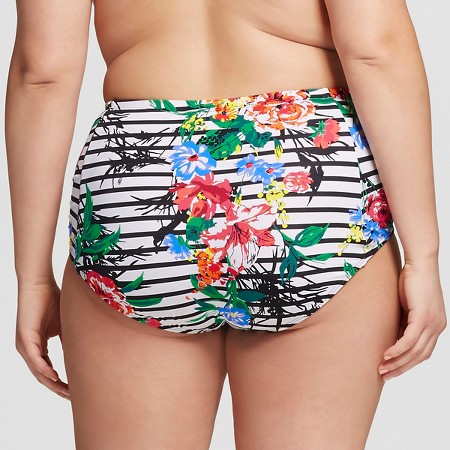 Target
But then the TOP ruined it for me...are we going for a ONE piece look here? That is NOT a bikini! LOL Show some SKIN!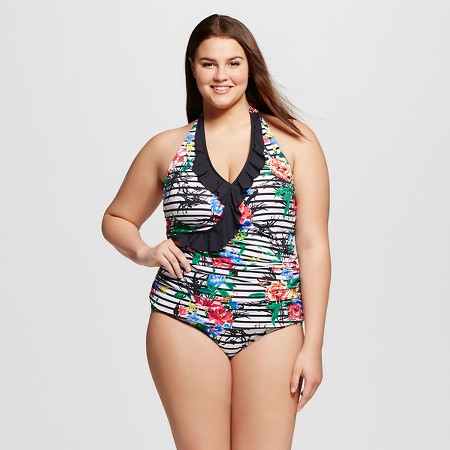 Target
But honestly WHY do all the PLUS SIZE women's ONE piece SUITS have "slimming" in the title of the product? Like women want to Swim in constricting SPANX-like suits! NO thanks.
We're Plus Size we get it....We don't need reminders our bodies require "slimming" to be accepted by society.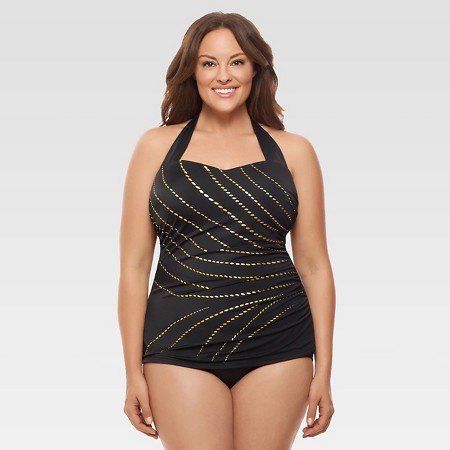 Target
Women's Plus Size Slimming Control Halter Tankini Swim Top - Dreamsuit by Miracle Brands
👊👊👊👊👊👊👊👊👊👊👊👊
OMG BUT THIS BOHO STYLE PLUS SWIMSUIT YAZ
🌊👼
JUST CALL ME SEA ANGEL
Target
Women's Plus Size Lace Trim Maillot Black - Sea Angel
XO #CHUBBYMANNEQUIN
WATCH LOEYS VIDEO HERE