ULTA GIFT AND PALETTE REVIEW
I got a Thank you gift from Ulta in the mail a $10 gift card for being a Rewards member.
I always check out the Ulta brand of makeup first!!
Pic by Chubby Mannequin Made in Canva
This Palette is only $20 bucks and I got it half off woo!
💖
Michelle is a 30 yr single old mom of twins! I think this is awesome! She acknowledges her fans and that her opportunity wouldn't have been possible without them!
My Shopping Experience:
Right off the Bat at Ulta the packaging caught my eye and of course the display sample. I saw the palettes amazing colors, the shadows, highlighter, blush AND LIPSTICK! I was like thinking ok this is probably 50 bucks...$20 I was experiencing sticker shock in a good way. I was so excited as I checked out and the shopgirl mentioned these were new and probably won't last very long. There were 3 available on the shelf.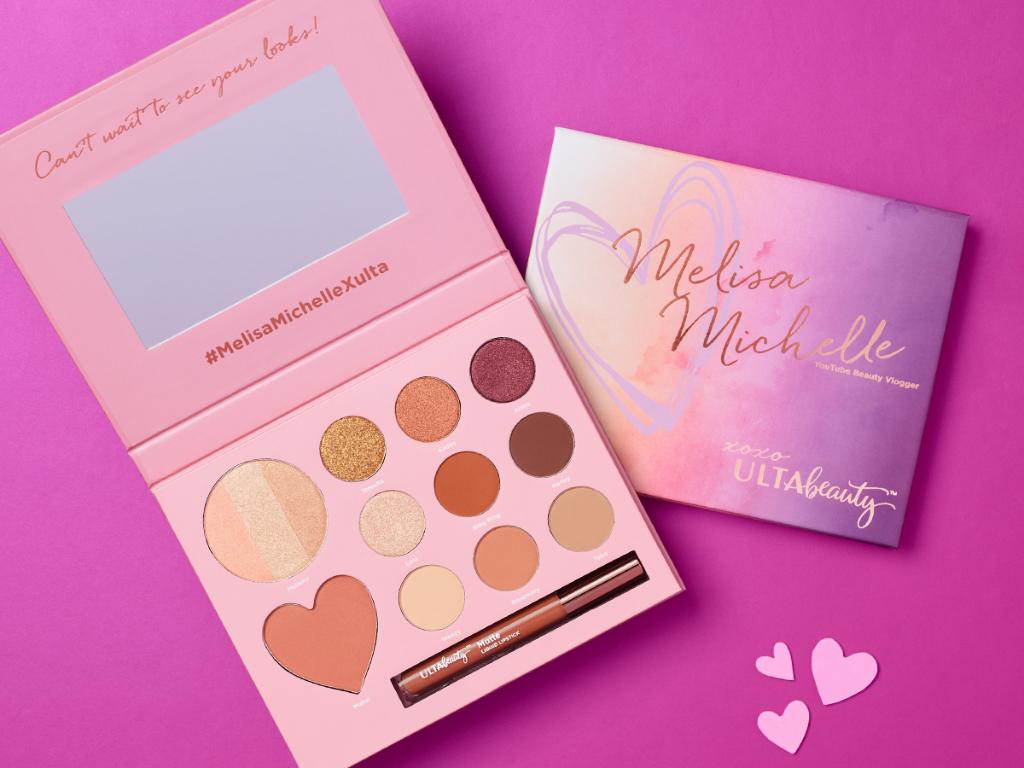 ulta twitter
WHATS IN THE PALETTE?
My favorite feature is the HEART shaped blush! And that pretty Gold Eye shadow on the top left Named "Terasita".
There are 3 highlighter shades named "HOLLARRR".
She chose the name Hollar because she is always saying "Hollar"
THE SHADES
Bronzy Warm Shade
Gold Shade
Light Pink Shade
The Blush "Mahal" was designed to be a part of any makeup look and for an everyday use
Pic by Chubby Mannequin Made in Canva
Pic by Chubby Mannequin Made in Canva
Say My name...
Terasita-Moms name
Kades-Sons nick name
Alana-Daughters name
Lola-grandmother in Filipino
Bing Bing-kids nickname
Harley-My Youngest Dog
Weezy-Her fathers nickname
Rosemary-Niece
Tobo-Nick Name for her dog
Liquid Liptstick-Scandy because its Nude and

Sexy

!
Pic by Chubby Mannequin Made in Canva
PROTIP: She mentions you can change the color by changing your lip-liner!
Watch her video to describe the color tones <3
Check out her video below if you want to watch this cutie!
Michelle
talks about how fun it was to create the palette and she handpicked the shades, designed the palette etc. Pretty impressive!
Final Thoughts: this palette is the BOMB and worth every penny! I love that it is a price that even a teenager or struggling single mom can afford! It is a palette you can literally use day or evening. What are you waiting for? Go get yours girl!!

NOTE: NOT SPONSORED JUST REALLY EXCITED ABOUT THIS ITEM I FOUND AT ULTA!